The Austrian Service Abroad  is an organization providing volunteering opportunities (Auslandsdienst) for people of all ages (minimum 18 years), educational backgrounds and sexes. The prerquisites are the German language (critical for participation in conferences and meetings) as well as having the main residence in Austria for a minimum of 1 year prior to the start of the service. Provided the service abroad lasts for at least 10 months it may be accredited as an alternative to the mandatory Austrian military or national service. Your tutor may inform you about further details.
The application for an Auslandsdienst as well as the selection of volunteers is always done by the Austrian Service Abroad organization. Please do not contact any partner organizations by yourself!
The first and most important point of contact within the organization is always the tutor of your federal state. Note the following: the more poeople you contact, the more you communicate with them, the faster you obtain all relevant information.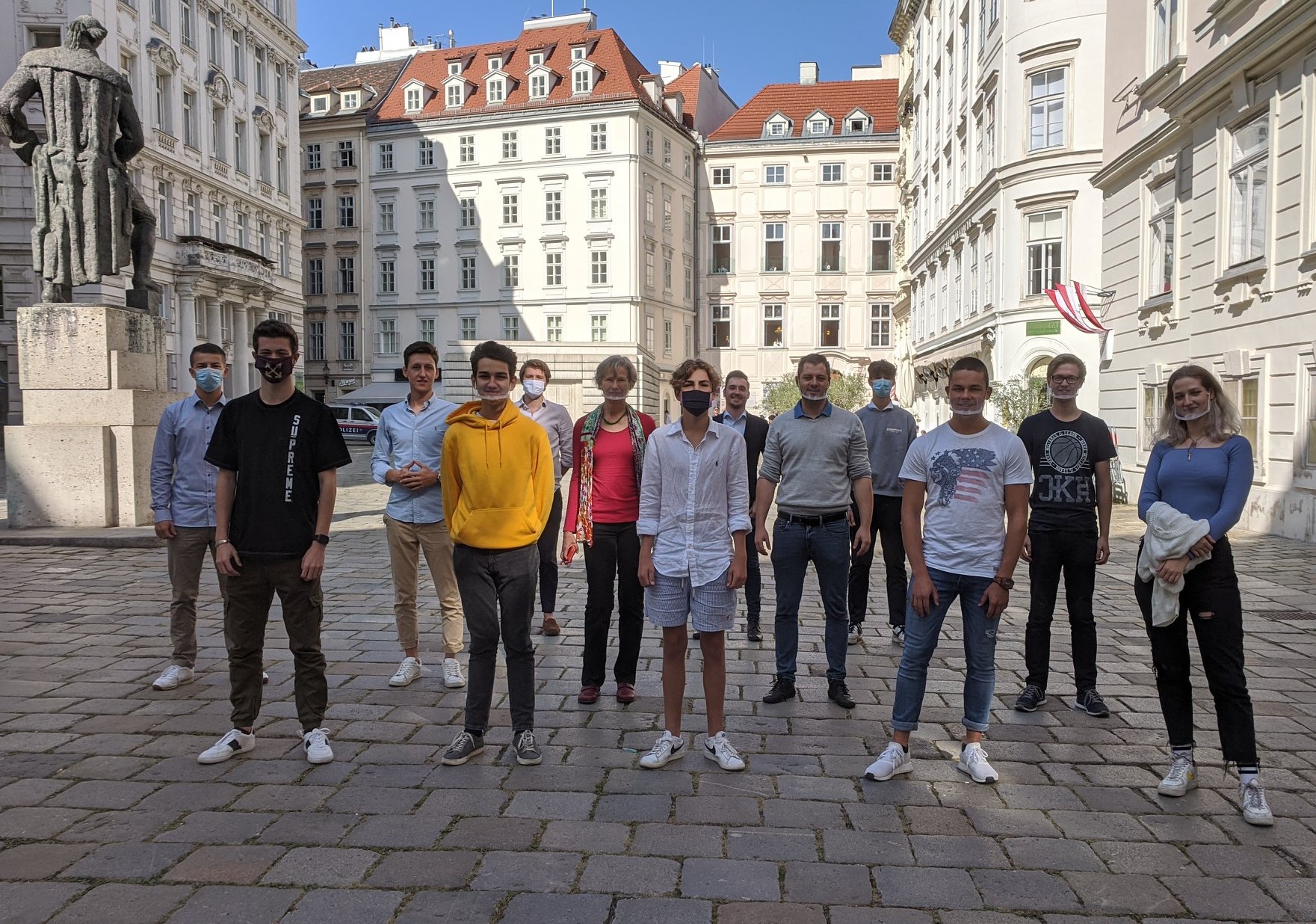 Participants of the team leader conclave in downtown Vienna (September 2020)
Unique experiences in serious institutions / organizations dealing with the commemoration, research and education of the Holocaust (in memorial places, museums, think tanks, schools, universities) – Gedenkdienst
Unique experiences in the fields of caretaking, education, medicine, environmental protection, economic development and infrastructure building – Austrian Social Service
Unique experiences in projects dealing with the coming to terms with violent conflict, war and human rights abuses in the context of (former) areas of armed conflict – Austrian Peace Service
Opportunities to meat countless of diverse and interesting people amongst the candidates and colleagues as well as guests, offering you an emotionally and socially rewarding experience
Opportunity to cooperate with Austrian diplomats in your country of placement and make relevant contacts for your future (career) pathway
Support in your preparation via the network of the organization (e.g. conference guests) and the internal structure (input + supervision)
Opportunity to immerse into an established organizational hierarchy and collecting practical and professional work experience
The opportunity to assume responsibilities also after the service abroad as an Alumnus / Alumna (e.g. as an area-coordinator or mentor, delivering workshops, being radio interviewed, giving presentations, etc.).
Be part of a worldwide alumni network of inspiring, smart, educated, well-travelled and kind individuals
Genuine interest in the countries, cities and organizations of your choice
Willingness to learn, challenge yourself and assume responsibilities
Willingness to immerse yourself into the traditions and structures of your country of placement
Humility and respect towards the culture, traditions, habits and religion of your country of placement
Genuine interest in your selected type of service (interest in the Holocaust & National Socialism, social service or peace-building)
Preparedness to clearly communicate and explain with depths your interest in your volunteering service abroad and in your contributions to the organization. Why do you want to do what you want to do?
Willingness to communicate regularly with your key persons within the organization regarding your progress (self-initiated) – communication is key!
Awareness that collaborating in the organization requires a significant amount of time (weekly online-conferences and one monthly physical meeting + seminars, study trips, educational visits, etc.)
Openness, tolerance and acceptance of different opinions, viewpoints and attitudes. We accept candidates from all political, religious or ethnic affiliations. Civilized dealing with differences is a must
Resilience and awareness that the interest in and popularity of the Auslandsdienst is increasing and competition for your preferred choice of placement may exist
Flexibility regarding your choice of placement. Also consider alternatives
Attitute of taking the initiative within the organization and regarding meeting new people and establishing (also diplomatic) contacts