OUR ORGANIZATION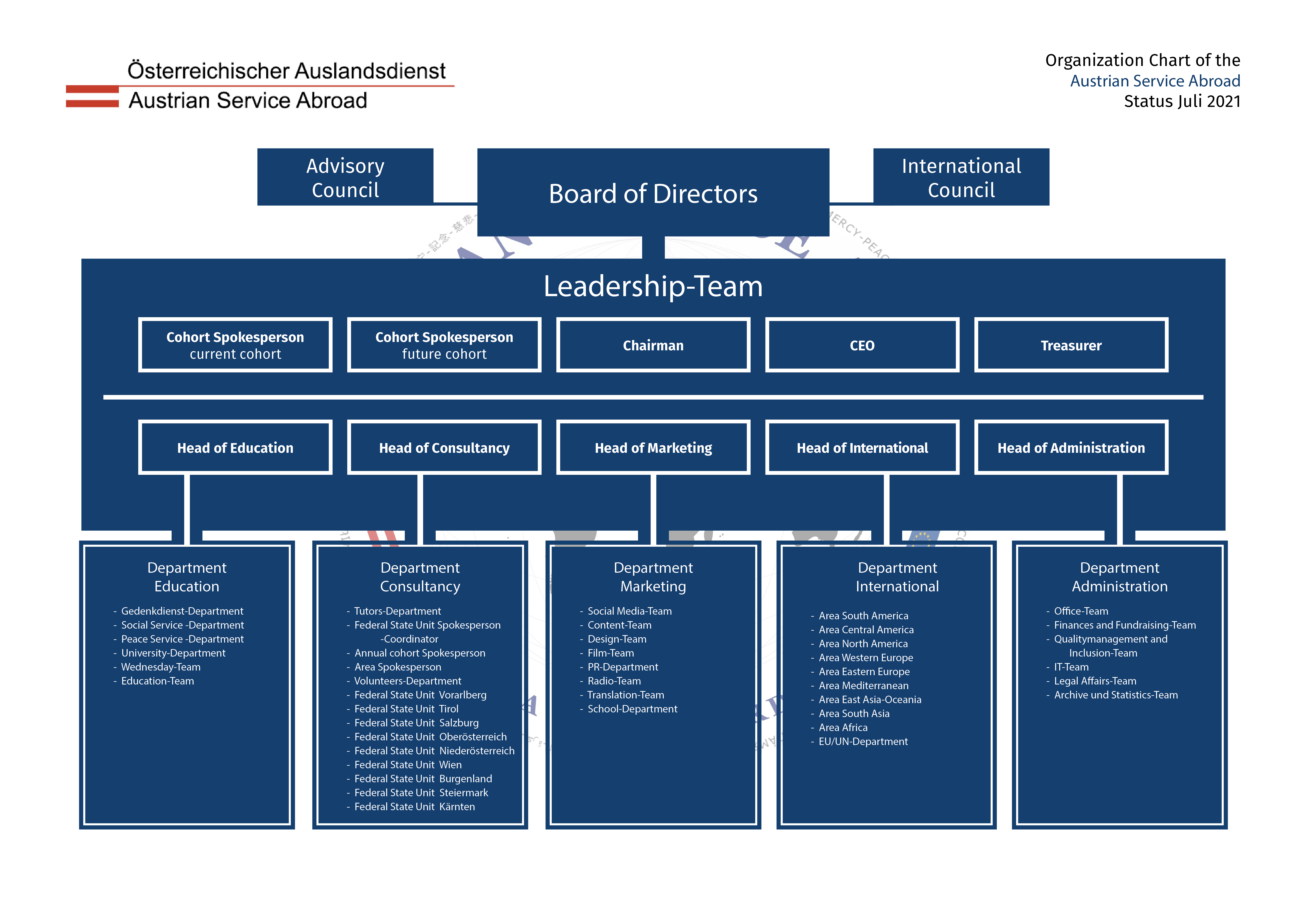 The Austrian Service Abroad is a non-governmental non-profit organization accredited and sponsored by the Austrian Federal Ministry of Social Affairs, Health Care and Consumer Protection. It provides Austrians of all genders the opportunity to do a volunteering service abroad. Under certain conditions such volunteering services may be acknowledged as an alternative to Austria's mandatory military or national service for male Austrians. The organization was founded in 1998 by Andreas Maislinger, Michael Prochazka and Andreas Hörtnagl.
The organization prepares candidates for their service abroad, sends them to their placement and supports them during their stay abroad. The preparation period consists of conferences (online & physical), seminars (online & physical), voluntary-based contributions to the workflow of the Austrian Service Abroad organization, literature clubs, study trips, workshops and educational visits. During their service, Austrian Servants Abroad maintain contact with their sending organization.
The Austrian Service Abroad consists of its internal structure according to the organization's organigramm in addition to organizational projects.
The organizational chart is divided into the Board of Directors, the Advisory Council & International Council as well as the Leadership-Team, including the five divisions of Preparation, Guardianship, Marketing, International and Administration which contain their own teams and smaller units where the crucial voluntary work is carried out.
Organizational projects of the Austrian Service Abroad are Understanding Israel, the House of Responsibility, the Wednesday Conference as well as several study trips.
The Austrian Service Abroad is part of the House of Responsibility.
The Austrian Service Abroad provides the opportunity to do a Gedenkdienst, Austrian Social Service and Austrian Peace Service and has partner institutions around the world organized in 9 geographical areas.
Tobias Kohlberger studies business administration at the University of Vienna. Prior to his time as office manager at the Austrian Service Abroad, he gained professional experience in accounting and controlling, as well as grant accounting for EU projects. He enjoys organizing larger events and campaigns and is the contact person at the Austrian Service Abroad for administrative and financial matters in the Vienna office.
In 2006 Daniel J. Schuster did a 12-month Gedenkdienst at the Yad Vashem Holocaust Memorial in Israel. He then worked as a kindergarten teacher in China for 8 months, studied a Bachelor of Arts (philosophy, psychology and history) and Mandarin in Graz, Austria, and completed a Master in Government in Herzliya, Israel. During his studies he engaged on prolonged study trips to China, Australia and Azerbaijan. Before joining the Austrian Service Abroad as the Head of Vienna Office, he worked for 4 years in an Israeli high-tech start-up consulting company.
Astrid Brucker was herself a volunteer in South America (Peru and Argentina) after graduating from high school, where she helped in social projects with children and teenagers. As a student at the University of Vienna she was engaged in a backpacker hostel, fully living out her joy of languages, troubleshooting and helping others. After studying English (with a few forays into International Development), she supported a sustainable consulting business alongside raising her daughter and is now also an enthusiastic all-rounder in an NGO operating in Nepal.